Teens Reusable Sanitary Products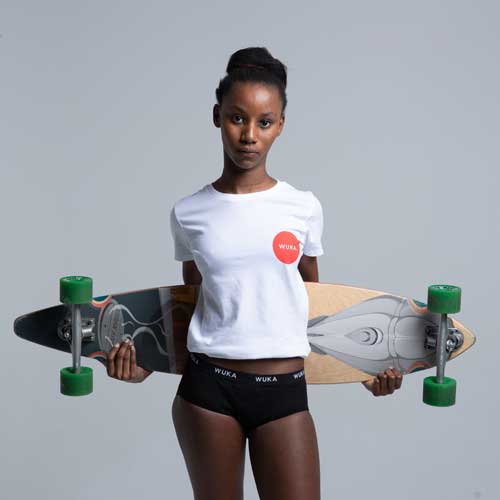 Many teens are turning to reusable period products as they are very aware of the environmental issues of plastic waste, period poverty but also they have learnt from friends how much more comfortable, absorbent, leak free and convenient reusable products are! Reusables are suitable for every stage of your cycle, day and night and suitable right from your first period.
What reusable period products are out there for you?
There are three main types of sanitary products available.
Cloth Reusable Sanitary Pads
Menstrual Cups
Period Underwear
What you choose to use for your period is entirely your choice however we do have some products that are more tailored to those who have just started their periods. Whatever option you choose you'll find they hold just as much blood as disposables and most items hold many times more.
Cloth Sanitary Pads
We tend to find that reusable sanitary pads with darker tops or bright patterns are more popular among younger customers and slimness is essential. Cloth pads are available in a range of absorbencies just like disposable pads from light flow right up to heavy flow. Whatever you need there will be an option for you. Reusable pads are held secure using poppers or sometimes Velcro. Velcro is popular for horse riders or cyclists.
Reusable sanitary pads are available in a range of material including organic cotton, soft bamboo or quick drying polyester. Cloth pads have a top layer that keeps you feeling dry and comfortable.
The La Petite Ourse pad has a charcoal fleece top and comes in some great patterns, they are really slim and make a great option to help you feel nice and dry.
Some of our handmade reusable pads are great for those who love bright patterns. The Sew Sustainable 8 inch Regular are a great slim cotton top option and are handmade by one of our suppliers who is a 15 year old girl!
You'll also need a wet bag to store your used pads in after use. Washing pads is incredibly simple and they just go into your washing machine with your other laundry, you can read full details in our washing pads article.
Menstrual Cup
Menstrual cups are the least popular option for teens or those who have just started their periods. They can be a little fiddly to insert/remove when you first use one and once they do get the hang of them they are life changing and far more comfortable than tampons. Cups also last up to 10 years so they are incredibly cost effective and great for the environment.
For those that would like to use a cup (if you are very athletic and like sport you may be more drawn to them) then there are some cups that have been specifically designed for you.
Saalt make a specific Teen cup which is smaller than the regular Saalt cup.

Meluna S and Lumma S can also be exceptionally good options to get started with.
Period Underwear
Period Underwear are by far the most popular option for reusable menstrual products in younger people. The discreetness of them and the length of time that they can be worn for mean they are a great option for school days.
Period underwear is very discrete and looks just like normal underwear but have a sewn in pad in the gusset. You can wear them for around 8 hours at a time and make them a great option for wearing at school because they don't need to be changed through the day whilst you stay leak free. They can also make a great option for back up to your cloth sanitary pads. The Cheeky Mama Feeling Sport and the WUKA Basic Hipster Briefs come in small sizes so can fit a greater size range.
Period pants remove a lot of the stigma and embarrassment of others knowing you are on your period. This is just one of the reasons that they are the most popular choice for young girls and teens.
Beginners Kits
If you're getting your tween or teen ready for their first period then consider a purchase of one our starter kits or pack which give them a choice of every style of reusable sanitary products plus a bar of chocolate!
Period Swimwear
Did you know that there is now swim wear that is suitable for periods as well? Your teen no longer has to missing swimming if they have their period, switch to period swimwear instead!