Reusable Sanitary Pad Fabrics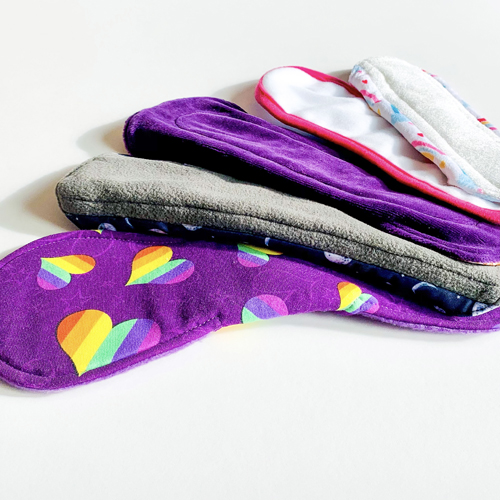 Choices of Reusable Sanitary Pads Fabric
Unlike disposable pads reusable sanitary pads come in a variety of fabrics so there will be a cloth pad for you no matter your requirements. We stock cloth pads made of cotton, bamboo, hemp and synthetic fabrics.
The drying speed and absorbency will vary depending on the reusable menstrual pad fabric used.
Core Fabrics Commonly Used in Reusable Cloth Pads
The core fabric has an important function to absorb blood from periods. Certain materials are more absorbent than the rest, but they can also be thicker.
Types of Absorbent Material For Reusable Menstrual Pads
Cotton – natural fabrics, very absorbent, breathable, soft, average drying speed.

Bamboo – viscose fabric, highly absorbent, breathable, soft, very slow drying speed

Hemp – natural fabric, super absorbent but needs more prewashing than other fabrics, soft but can go harder over time, slow drying

Synthetic – Manmade, less absorbent, stays soft even in hard water areas, very quick drying.
Sanitary Pad Sizes
It is common to have different cloth pad sizes and cloth pad fabrics for different days in your menstrual cycle.
For heavier days the more absorbent fabric and longer pads will give you greater protection for a heavy flow. We try to include details of absorbency levels for each pad so you can easily compare your choices

Which ever fabric you choose we're confident you'll find your reusable cloth pads more comfortable than disposable pads.
Cloth Sanitary Pads Top Layer Fabric
There are a few different types of fabric tops to consider when choosing your CSP. They all have their pro's and cons.
The main types of fabric toppings are
Jersey Cotton- This topping in commonly seen on our handmade pads. It is a very breathable fabric and if you have sensitive skin then this natural fabric will be a great choice. It can be slow at absorbing so if you have a particularly heavy or gushy flow then you may prefer a different topping. An example of Jersey Cotton Topped are the Red Rags Handmade pads.
Velour (either bamboo or cotton)- Velour is a wonderfully quick absorbing pad making it great for incontinence pads or for Post Partum/very heavy days when you are bleeding heavily. They make great heavy/postpartum toppings but if you are prone to sporadic fast flows then this would make the perfect topping for your pads. An example of these are Mini Vivi Incontinence Pads.
Minky- This is synthetic fabric and one of the quickest absorbing toppings available. It is great for postpartum pads. If you prefer a more natural fabric then I would recommend a velour topping.
Fleece- Fleece is great at helping to stay feeling nice and dry. If you have a light flow, or need it for ovulation then fleece topped can be a great option for you to help you keep feeling dryer for longer. If you are prone to flooding then fleece would not be recommended as it can slow down absorption.
Waterproof Layer
Different cloth menstrual pads use different waterproof backing on the reverse side of the pad. Many of the heaviest absorbency pads use PUL fabric (polyurethene laminate). Lower absorbency pads often use fleece which is water resistant.
Long Term Investment
Reusable sanitary pads are an excellent investment and will see you through many years of periods. Read our article "How Long Do Cloth Pads last" read more about their longevity.
Read our article to learn how to care and wash your reusable sanitary pads.